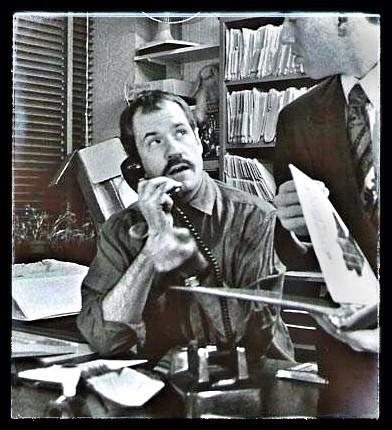 "A man must dream a long time in order to act with grandeur, and dreaming is nursed in darkness" – Jean Genet
Today marks the ten year memorial of Jonathan Scott's passing, a dear friend I met while at college in Arizona. Jonathan, a native from Minnesota, had the ability to make anybody he talked to feel important. He embraced every interest of any person he ever encountered with tremendous enthusiasm and before he was done he'd put a smile on your face.
His fantasy was to move to San Francisco which he felt was one part Armistead Maupin's Tales of the City, and two parts (what he called) the Island of Misfit Toys. To him, if you were a misfit of some kind or another then San Francisco was your home and your family.
When he arrived in 1985, he came face-to-face with something that was not a fantasy, the AIDS epidemic. Yet, in the face of all this tragedy, Jonathan enthusiastically made it a point to volunteer his time to help comfort those suffering, and he did it while getting his master's in acting.
At the American Conservatory Theater, Jonathan focused his master's thesis on the controversial French novelist and playwright, Jean Genet and performed it on Alcatraz. The pronounced prison and homoerotic tones shocked most of the students and others in attendance, which was Jonathan's amusing way of saying, welcome to my island—and there's no escape.
In the 90s, Jonathan focused on teaching stage combat techniques, making theatrical swords for American Fencers Supply, and of course acting on stage. He also landed lead roles in Mamet's Speed-the-Plow and Macbeth. A Scot who was a connoisseur of scotch, he every so often had to remind people that scotch was a drink, and Scot was a people.
Sometimes tragic things happened on Jonathan's island. One time on the way to work near the Fisherman's Wharf, he spotted a man running with a bloody knife in his hand. When he got to the corner, he found a young college student who had been fatally stabbed while trying to stop an attack on a woman. Jonathan stayed with and consoled the young man during his final moments. Above all, Jonathan was kind hearted.
The late 90s were not so kind to Jonathan Scott. He found himself battling demons on the inside and financial woes on the outside. To his despair, the San Francisco he knew was being replaced by one he didn't recognize, and before the new millennia, he moved back to Minnesota and left this world at the young age of 45 on September 16, 2004.
I will always remember him as a great friend, a teacher, an innovative actor, and I just wanted to take a moment on this sad anniversary to think about him. He may be missing on stage and in life, but he will always be present on the Island of Misfit Toys.
Jonathan Scott  July 31, 1959 – September 16, 2004
Pic 1: Jonathan in left. pic 2: In the middle – from Speed-the-Plow. Photo's by Colin Hussey (in suit)
R. Mizaki '14